FINEARTS CLUB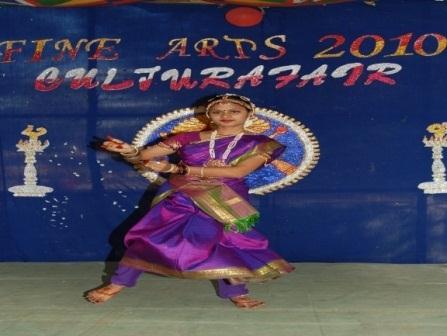 FINE ARTS CLUB
  "Art is not what you see, But what you make others see"
                                                  ....................-Edgar Degas
        According to Picasso "Every child is an artist.  . To encourage the student teachers in the artistic views, our institute has Fine arts club by which it provides an opportunity to exhibit their talents. Students participated in various fine arts were conducted by the college in every year of January. Students participated with competitive spirit and the best three participants were awarded with prizes.
Staff  Co- Ordinaters
                            Mrs. N.Selvi,
                            Mrs. B.Suganthi 
Vision
To protect and preserve vanishing arts, documentation of rare arts and improving the performance of artists.
To create an aesthetic consciousness among the students with their active participation.
Mission
To provide opportunities for the youth to develop their skills and abilities in various arts.
To enable the students express their hidden talents.
To make students realize that individuals could contribute to larger goal by doing their best.
To motivate and to channelize the students in a positive way to participate in various inter college competitions with challenges.
To perpetuate the divine arts of music and dance among the students to build them up in spiritual strength and self discipline.
FUNCTIONAL PERSPECTIVES OF FINE ARTS CLUB
Fine arts curriculum has been expended year by year. The club aims at preserving, promoting and popularizing the cultural treasures of our mother land. It proceeds diligent with deep commitment in the path paved by our magnanimous and omnipotent managing trustee for promoting the Indian fine art forms.
Classical Dance and musical classes are conducted by well versed tutors for the interested candidates. Instrument classes are also configured by trained professionals to inculcate artistic excellence. Students can indulge themselves in various instrument classes such as Keyboard, Guitar, Violin, Veena, Drums etc.
Every Year Fine arts week namely STET FIESTA is celebrated as a remembrance of our divine mother Smt.Krishnaveni Ammal, (founder, S.T.E.T. Group of Institution) in the month of January. Students enthusiastically participate in various contests. Among the participants, prize winners for first three places are selected according to their performing excellence by a team of experts after thorough scrutinization.
LIST OF COMPETITIONS AND JURY'S NOTIFICATION
INSTRUCTIONS TO THE PARTICIPANTS
SONG SELECTION:

Lyrics of the songs must be good.
Typical folk song should be selected for the folk dance.
Typical western song or music should be selected for the western dance.

COSTUME:

Suitable clothing should be selected.
Clothing must be fit & Participants should be dressed properly.

Participants should be arranged near the competition spot in time.
Newly recorded D.V.D. cassettes should be kept at the time of competition.
Group dancers should give concentration on uniformity in dressing and steps.
Participants should complete their performance in allotted time.
4-6 members are allowed in a group dance.
6-8 members are allowed in Tamil skit.
Participants should be there till the programme ends.
Volunteers should be appointed to arrange the stage before starting every programme.
Instead of names, numbers are given to the participants of the indoor competitions.
Tamil skit participants are strictly asked to minimize the usage of properties.
Health condition of the participants should be periodically monitored before and during the competitions.